Is there any fan of trance music?:)
Qualche fan di musica trance?:)


Well, I listen to almost any kind of music but in shorts, I would describe myself like a girl who has a foot in the past hard rock music of the 70s and the other one in trance music :) I now it's a bit strange but I remember that Tiesto during an interview said that he was a rock lover but that he found by chance trance music and this one became his future and his job!
Tiesto is a well-known name for trance lovers but did you know about its fashion collaboration with brand Guess?
Well, the second collaboration (the first was launched in 2012) made of 35 new items will be launched in May!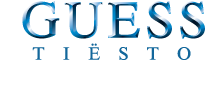 Tiesto said about the new project:
"I'm excited because I learned so much from the first collection and
put all the experience into the second one to create amazing pieces, it's especially exciting to grow the second collection by adding more pieces and accessories."
Last 28th March the DJ played in
Dubai
for a special Guess-branded
performance but more concerts will be soon revealed :)
Here are some of the past collection Ads!
Personalmente ascolto qualsiasi genere di musica ma in poche parole, mi descriverei come una ragazza che ha un piede nella musica hard rock degli anni 70 e l'altro nella musica trance :) Potrebbe sembrare un pò strano ma ricordo che Tiesto durante un'intervista disse che era un amante del rock ma che aveva scoperto casualmente la musica trance la quale divenne il suo futuro e il suo lavoro!
Tiesto è un nome molto conosciuto dagli appassionati di trance ma sapevate della sua collaborazione fashion con il marchio Guess?
Ebbene la seconda collaborazione (la prima venne lanciata nel 2012) composta da 35 nuovi pezzi verrà lancita a Maggio!
Tiesto ha detto riguardo al progetto:
"Sono entusiasta perchè ho imparato molto dalla prima collezione e ho meso tutta l'esperienza acquisita nella seconda collezione al fine di creare pezzi fantastici, è stupendo far crescere la seconda collaborazione aggiungendo più pezzi ed accessori".
Lo scorso 28 marzo il DJ ha suonato a Dubai in occasione di una performance speciale sponsorizzata proprio da Guess ma nuovi concerti verranno svelati presto :)
Qui sotto la campagna della prima collezione!