Nails of the day: Blue Water ombre nails!
I share with you one of my favourite nail art!
It's a blue water
degradé-ombre nail art
and I do it quite often because it takes me just
4-5 minutes
to do it and the effect is amazing!
base coat
, a
deep blue nail polish
and a
l
ight blue
one, some
flitters
and a
top coat
!
Use a little sponge and put a bit of deep blue on its top then start apply it on the lower part of the nails, a bit over the smiling line, it's not a proper french ;) then do the same thing with the lighter colour, apply it where the blue one fades and reach the top of your nail !
Then apply an extra thin coat of top coat and apply flitters on the central part of the nail.
Last step: apply top coat, better if you have a
gel look
one to give more volume and extra shine to the nails ;)
Ombre Nails
Ciao a tutti! :)
Condivido con voi una delle nail art che mi piacciono di più!
E' un degradè-ombre sui toi del blu e dell'azzurro e la faccio abbastanza spesso in quanto mi ci vogliono solo 4-5 minuti per realizzarla e l'effetto è fantastico
Avete bisogno di uno smalto base, un blu scuro ed uno azzurro, flitters ed un top coat!
Usate una spugnetta e applicate sopra un pò di smalto blu, iniziate ad applicarlo dall'estremità inferiore dell'unghia fino ad arrivare un goccio al di sopra della linea del sorriso, non è una vera french ;) poi fate la stessa cosa con il colore più chiaro, applicatelo sopra il blue, nel punto in cui termina la sfumtura che vete fatto e raggiungete l' estremità superiore dell'unghia!
Poi applicate uno strato sottile di top coat nella parte centrale ed applicate i flitter.
Ultimo step: applicate un top coat, meglio se uno gel-look che darà un effetto gel, più volume ed una brillantenza estrema alla vostra nail art ;)
O.P.I Base and Top Coat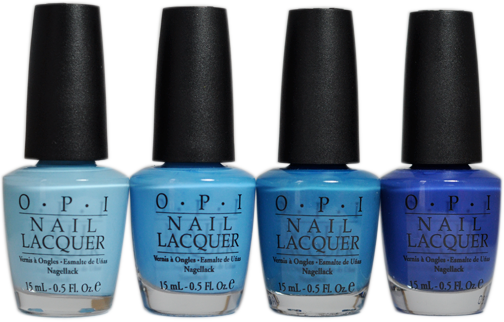 O.P.I. Blues
Blue Flitters